Dolomites - Unesco World Heritage Site
---
The site of the Dolomites features highly distinctive mountain landscapes that are of exceptional natural beauty.
The quantity and concentration of highly varied limestone formations are extraordinary in a global context, whilst the superbly exposed geology provides an insight into the recovery of marine life in the Triassic period.
Plan de Corones - Kronplatz:
Skiers love the extensive slopes, mountain huts and fun attractions at Kronplatz!
It is the icing on the cake of Dolomiti Superski and enjoys unequalled views across the whole of the region's mountains.
With its 32 lifts, 119 km of pistes and 5 mighty black runs, it is a high point for every skier looking for a bit of action. Kronplatz is the best!
National park Fanes-Sennes-Braies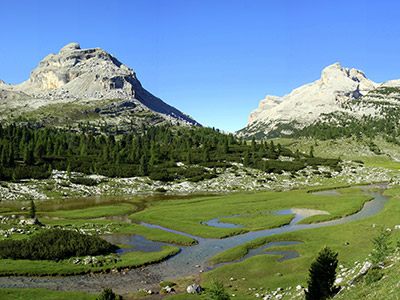 San Vigilio is located among the Dolomites and just beyond the borders of the national park "Fanes-Sennes-Prags": an area of close to 100 square miles with limestone pavements, fissures, wells and sink holes, where water often collects in temporary lakes.
Plant life consists mainly of conifers (Norway spruce, larch, mountain pine and Swiss pine), the fauna is varied and features species which seek quiet habitats where they will not be disturbed: roe deer, chamois, snow-grouse, black grouse and of course marmots, the subject of many local legends.
Visit us and enjoy this unique and magical landscape!